An Okavango Mokoro trip is a great way to minimize your footprint while exploring our watery wonderland. Your guide expertly navigates his traditional canoe along countless reed lined channels as you glide silently through the delta. In combination with Island game walks this is a truly non-invasive way to get close to nature.
The fairly recent innovation of fiberglass replicas mean that the majestic old trees that are so much a part of the Okavango landscape are no longer being chopped down for Mokoro manufacture. There are varying ways a visitor to the Okavango Delta can include a Mokoro trip in their visit.
Okavango Mokoro Safaris from Maun
If an Okavango Mokoro safari is the focus of your visit then you may go from Maun without having to fly to a lodge in the delta. From Maun you can be transported to one of the community run Okavango mokoro stations either by boat or safari vehicle. The mode of transport we use to get you to a Mokoro station will depend on the current water level.
You have the option of having all equipment and meals provided or taking your own equipment and provisions.
Sitting in a Mokoro is only one aspect of this form of Okavango experience. Guided game walks in the early morning and late afternoon as well as spending time in your island campsites during the midday heat are just as much a part of your daily activities.
You may go on a mokoro trip for as many days you wish.

Mokoro day trips
We will pick you up from your place of accommodation in Maun.
The day is spent with a combination of being on the water in a mokoro, going on a game walk and having a picnic on an island in the Okavango.
Transfer to Boro mokoro station and back to Maun is appoximately 1 hour each way.
When water levels permit we use a motorboat, otherwise a safari vehicle will be used.
15th September to 15th March
Depart Maun at 6am to Boro mokoro station return to Maun at 1pm
Includes return transfer, entry fee, mokoro trip, bush walk, picnic breakast and drinking water.
16th March to 14th September
Depart Maun at 8am and return to Maun 5pm
Includes return transfer, entry fee, mokoro trip, bush walk, picnic lunch and drinking water.
2022/3 Day trip mokoro prices
(Minimum 2 people)
US$ 144.00 per person sharing
Single supplement US$ 30.00
Self-catered Okavango Mokoro Safaris
If you have your own camping equipment and the time to stop by a supermarket for provisions then this is an affordable way to enjoy the Okavango. If at all possible it would be a nice gesture to buy extra provisions to share with your guide. Your guide, allocated by the community trust, will play a big part in your Okavango experience.
We can arrange your mokoro trip and a transfer to the best Mokoro station according to time of year and water levels.
This takes between 1 and 2 hours in a safari vehicle or motor boat.
You will need to pack light if you wish to avoid having to hire an extra luggage Mokoro.
2022/3 Self-catered mokoro prices
(Minimum 2 people)
1 night trip US$ 185.00 per person sharing……..single supplement US$ 60.00
2 night trip US$ 230.00 per person sharing……..single supplement US$ 90.00
3 night trip US$ 275.00 per person sharing……..single supplement US$ 120.00
If an extra luggage Mekoro is required add
1 night US$ 80.00 per luggage mokoro
2 nights US$ 120.00 per luggage mokoro
3 nights US$ 160.00 per luggage mokoro
Equipped and Catered Okavango Mokoro Safaris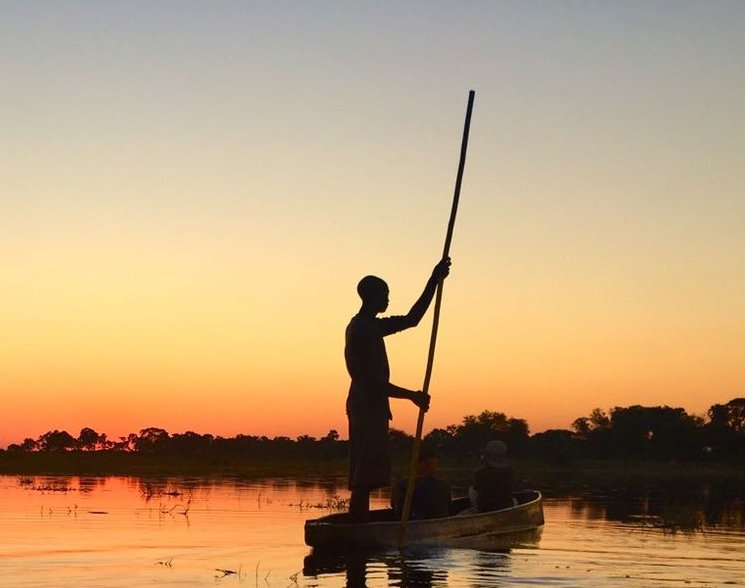 If you prefer your camp set up for you and for one of our chefs to perform their fireside magic we will be happy to provide this. Our equipment is bulky so this also entails some extra luggage Mekoro to get the job done.
2022/3 catered mokoro prices
(Minimum 2 people)
2 day trip US$ 315.00 per person.
3 day trip US$ 470.00 per person.
4 day trip US$ 630.00 per person.
Single Supplement 25%.
Mokoro trips from lodges
Most of the wonderful inner-delta lodges offer short morning or afternoon excursions. Some also offer overnight wilderness camping experiences with basic fireside camping a highlight and are a great option for the more adventurous travelers.
Mokoro trips on safari
There is a mokoro station at Mboma in Moremi Game Reserve and another in the Khwai concession. This makes a mokoro excursion an attractive add-on to a mobile safari in either of these areas.