During times of high water levels in the Okavango Delta Chiefs Island boating Safaris are a memorable way to spend a few days.
Gliding along the uncharted and ever-changing reed lined channels is mesmerizing. Water birds fly around the boat and fish dart through the clear water below you.
We run multi-day boating Safaris into the heart of the Okavango Delta. On our boating safaris we overnight in one, or a combination of, "Botswana Guides Association" campsites that are located up the Western edge of Chiefs Island. From these campsites we offer guided walks through the forests and grassy plains of pristine Okavango islands, mokoro explorations on uncharted waterways and boating excursions.
Let us know when and how many days you have to explore the Okavango and we will suggest an itinerary.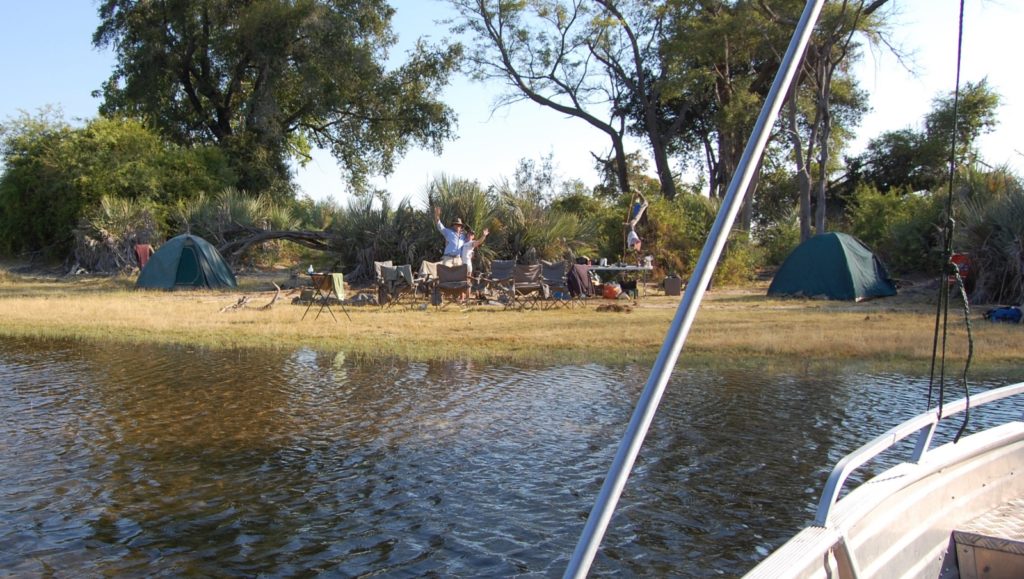 3 day Chiefs Island self-catered boating safari
Day 1: We will pick you up at 9am from your place of accommodation in Maun and transfer you to the boat landing getting you there by 9:30am. Here you meet your guide who will give you a full briefing on the safari. We depart around 10am from the landing in a motor boat, first on the Thamalakane river then turn northwards up the Boro river towards the delta. For the first 45 minutes you pass through a rural area then cross the "Buffalo fence" entering the protected wildlife areas of the Okavango Delta. The next few hours are enjoyed game viewing and bird watching while negotiating the winding channels of the southern Okavango en-route to Chiefs island.
If you wish, you may stop for a meal break and a short walk to stretch legs on the way.
We arrive at our camp at Nxaraga lagoon at around 2:30pm, pitch camp and take a rest in the shade at our picturesque campsite.
At around 4pm depart on foot with a guide for a 1 hour game walk around Nxaraga island. Once back in camp you have time before dark to get your dinner preparations underway. The staff can arrange a warm bucket shower for you.
Retire at your leisure to your tent to fall asleep to the sounds of the Okavango.
Day 2: We depart at 7:30am for a 4 hour round trip boat ride to the Xaxaba area. If you wish at this stage to add an optional couple of hour Mokoro excursion we can take you to Xaxaba village to meet your mokoro poler/guides and go out for a combination of mokoro poling and walking. Depending on whether you opt for the mokoro excursion or not you arrive back at Nxaraga campsite between midday and 2pm. At 5:30pm we take you out onto Nxaraga lagoon for sunset.
Day 3: We wake up around 5:30am and set off shortly after 6am for a 20 minute boat ride to a point from which we can go on a three hour guided game walk.
We then arrive back around in camp around 9:30am.
We depart from camp around 11am for a slow ride back to Maun arriving at 4pm.
The sites we use are all exclusive operators sites that are not shared with other groups.
These trips are staffed by a professional guide. You will also be accompanied by a camphand who will assist you with setting up camp, preparing your meal and washing dishes.
All camping and catering equipment is included.
For groups of 4 or more people we send an additional tender boat.
The tents we use on this safari are 2.5m x 2.5m dome tents, each one has one or two comfortable bedrolls depending on whether you are sharing or not. Each bedroll is made up with a sheet, duvet and pillow.
2022 Prices
2 people P9950.00/person
3 people P7500.00/person
4 people P6950.00/person
5 People P6450.00/person
6 People P5950.00/person
7 People P5450.00/person
Optional Mokoro excursion P200.00/person sharing
Fully catered Chiefs Island boating safaris
2022 Prices:
P 2800.00 per person per day, based on 4 or more people.
For 2 people add 40% to the price above.
For 3 people add 20% to the price above.
Accommodation:
2.5m x 2.5m tent with a comfortable bedroll (and linen). Bedside table with lantern. A seperate shared shower and toilet will be erected.
Meals:
Early breakfast- Cereals, rusks tea and coffee.
Brunch- Eggs, beans, fried tomato, sausage and toast.
Light afternoon snack- Cold meats, salads breads.
Dinner- 2 courses, soup and a main or a main and desert.
Drinks:
3lts of drinking water per person per day & fruit juice for breakfast.
If you would like to take any drinks we will supply a cooler and ice.

For groups of more than 4 people a tender boat and 2 staff will set up camp ahead of you. For 4 or less people staff will go with you and all equipment will be carried on the boat with you.
Luggage should be restricted to 20kg per person in soft bags, if this is not possible please give us prior warning.
There is a luggage storage facility for any bags you wish to leave in Maun.